ZJY AC Servo Spindle Motor
ZJY AC Servo Spindle Motor ZJY AC servo motor with impressive outline and compact configuration, with totally enclosed air cooling structure, beautiful appearance, compact structure Low electromagnetic noise, steady running and high efficiency, with optimal electromagnetic design. Reliable stability, little vibration and low noise of motor run within a high speed range, with imported high […]
liên hệ ngay
chi tiết sản phẩm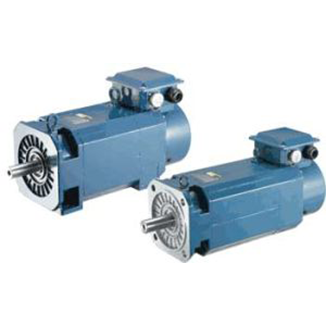 ZJY AC Servo Spindle Motor
ZJY AC servo motor with impressive outline and compact configuration, with totally enclosed air cooling structure, beautiful appearance, compact structure
Low electromagnetic noise, steady running and high efficiency, with optimal electromagnetic design.
Reliable stability, little vibration and low noise of motor run within a high speed range, with imported high precision bearings and high precision rotor dynamic balance processing.
Reliable use under the -15×40°C ambient temperatures as well as dust and oil fog environrment, with special corona resistance enamelled wires for frequency conversion motor, F insulation degree and IP54 protection degree high speed, high precision photoelectric encoder, which can be used for high precision speed and position control if matched with a high performance drive unit.
Strong overload capability supporting reliable running for 30 minutes at a 150% rated power.
Wide timing range up to a speed of 10000rpm.
High performance-cost ratio with shock-resistance and long life.
Technical parameters
Example: ZJY265-7.5BM-B3Y1

Appearance dimension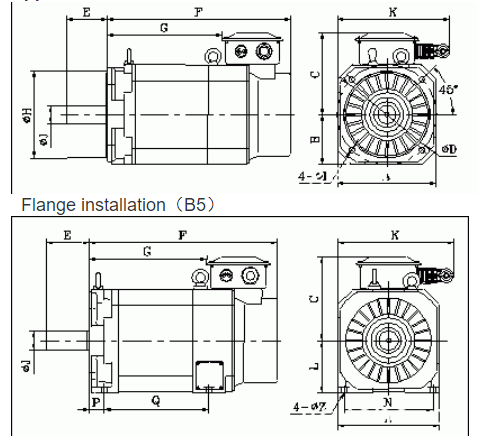 Item
ZJY208-2.2B
ZJY208-3.7B
ZJY208-5.5B
ZJY208-7.5B
ZJY265-7.5B
ZJY265-11B
ZJY265-15B
Appearance dimens ions (See figures)
A
208
208
208
208
265
265
265
B
104
104
104
104
132
132
132
C
188
188
188
188
216
216
216
D
215
215
215
215
265
265
265
E
60
60
80
80
110
110
110
F
363
413
468
523
443
488
533
G
187
237
292
347
260
305
350
H
180h7
180h8
180h9
180h10
230h7
230h8
230h9
I
15
15
15
15
15
15
15
J
28h6
28h7
38h6
38h7
48h6
48h7
48h8
K
272
272
272
272
300
300
300
L
106
106
106
106
135
135
135
N
180
180
180
180
230
230
230
P
40
40
40
40
40
40
40
Q
160
210
265
320
225
270
315
Z
12
12
12
12
15
15
15
Specification Item
ZJY208-2.2B (replacing ZJY132-2.2)
ZJY208-3.7B (replacing ZJY132-3.7)
ZJY208-5.5B (replacing ZJY132-5.5)
ZJY208-7.5B (replacing ZJY132-7.5)
ZJY265-7.5B (replacing ZJY160-7.5)
ZJY265-11B (replacing ZJY160-11)
ZJY265-15B (replacing ZJY160-15)
Rated power (kW)
2.2
3.7
5.5
7.5
7.5
11
15
Drive voltage (V)
Three-phase AC 380
Rated current (A)
9.3
8.9
13.7
18.4
18
26
35
Rated frequency (Hz)
50
50
50
50
50
50
50
Rated torque (N.m)
14
24
35
48
49
72
98
30min power (kW)
3.7
5.5
7.5
11
11
15
18.5
30min current (A)
13.6
13
18
25
26
34
42
30min torque (N.m)
24
35
48
70
74
100
123
Rated speed (r/min)
1500
1500
1500
1500
1500
1500
1500
Constant povver range (r/min)
Max. speedH: 1500~6000; max. speed M: 1500~5000
Max. speed (r/min)
M, H
M, H
M, H
M. H
M
M
M
Rotation inertia (kg.m2)
0.0103
0.0168
0.0238
0.0309
0.0413
0.0744
0.0826
Weight (kg)
49
51
66
77
89
107
125
Installation type
IM B5 or B3
Protection degree
IP54 (GB/T 4942.1—2001)
Insulation degree
F (GB 1094.3—2003)
Vibration degree
R (GB 10068—2000)
Imbedded encoder
Incremental 1024 p/r
Cooling fan power (V)
Three-phase AC 380V 50Hz 40W 0.14A
Three-phase AC 380V 50Hz 70W 0.21A
Item
ZJY208-2.2B
ZJY208-3.7B
ZJY208-5.5B
ZJY208-7.5B
ZJY265-7.5B
ZJY265-11B
ZJY265-15B
Appearance dimensions (See figures)
A
208
208
208
208
265
265
265
B
104
104
104
104
132
132
132
C
188
188
188
188
216
216
216
D
215
215
215
215
265
265
265
E
60
60
80
80
110
110
110
F
363
413
468
523
443
488
533
G
187
237
292
347
260
305
350
H
180h7
180h8
180h9
180h10
230h7
230h8
230h9
I
15
15
15
15
15
15
15
J
28h6
28h7
38h6
38h7
48h6
48h7
48h8
K
272
272
272
272
300
300
300
L
106
106
106
106
135
135
135
N
180
180
180
180
230
230
230
P
40
40
40
40
40
40
40
Q
160
210
265
320
225
270
315
Z
12
12
12
12
15
15
15
sản phẩm liên quan