GSK983M CNC Controller
GSK983M CNC Milling Controller GSK983M includes GSK983M-S.GSK983M-H,GSK983M-V and GSK983MA-H, with high cost-performance and high reliable CNC đeveloped especially for high speed, high precision and high efficient machining. Due to the applied high speed micro processor and high speed and precision servo system as well as sufficient CNC and high speed PLC functions, the machining efficiency […]
liên hệ ngay
chi tiết sản phẩm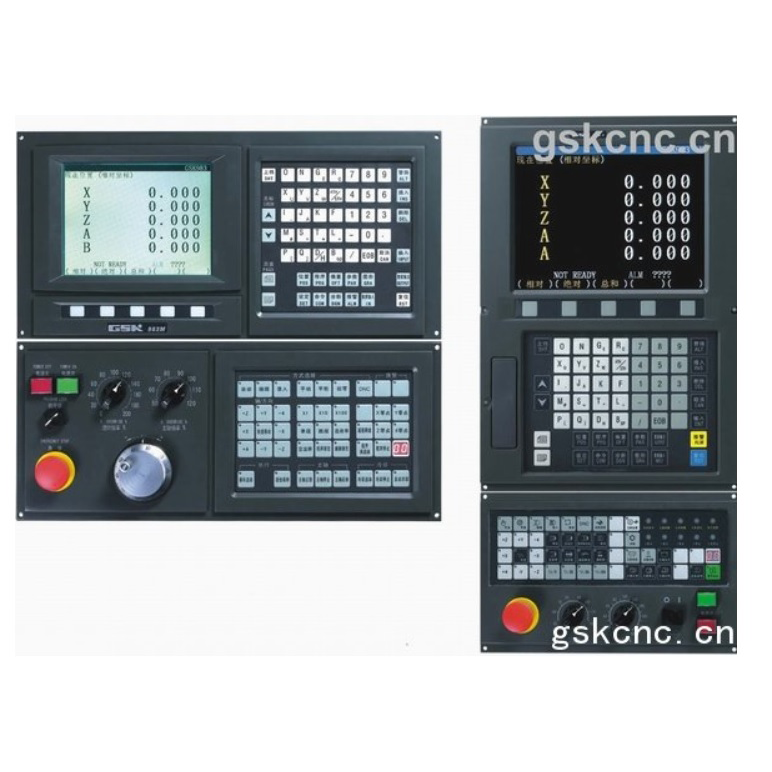 GSK983M CNC Milling Controller
GSK983M includes GSK983M-S.GSK983M-H,GSK983M-V and GSK983MA-H, with high cost-performance and high reliable
CNC đeveloped especially for high speed, high precision and high efficient machining. Due to the applied high speed micro
processor and high speed and precision servo system as well as sufficient CNC and high speed PLC functions, the machining
efficiency has truly realized a higher standard.
High precision machining
The high precision and high resonance position control has been realized by high perforrnance position closed loop control chip
and high precision position detecting components.
The mechanical errors in transmission chains such as pitch error of ball screw can be remedied by pitch memory error
compensation.
Feedrate override can be autoratically adjusted in the corner contour machining.
High speed machining
When the system resolution is 1µm, the highest feedrate can reach 240m /min which is suitable for the control of milling press.
MCs, engraving machines and super precision machine tools. The continuous high speed machining of micro block is realized by the distributed processing of multi-high speed CPU. The super processing capability of 1000 instruction words per second is especially suitable for the machining of high speed mould, auto parts and the control of woodworkers and laser machines.
High speed DNC functions
The specially developed high speed DNC buffer interface realizes the high speed DNC machining by the connection to PC or U
disk at the baud rate as high as 115200 .
Sufficient eontrol functions
It has the functions of maximum 5 feeding axes plus 1 spindle control, cutting tools life management, scaling, coordinate system rotation, complex canned cycle, background editing, graphics display and special user macro program that can easily carry out some special machining.
Powerful built-in PLG
The built-in sequence control for machine and the Iarge PLC capacity for peripherals have greatfy simplified the strong power design.
PLC-A 2000 steps PLC-B 12000 steps
Smart CNC
It adopts the Iatest high integral FPGA, CPLD chips and surface sticking adornment techniques which greaftfy reduces the dimensions of the control unit. And the LCD disptayer adopted realizes the thin model of display unit.
Module l/O
The module design adopts l/O unit which can be paralleled by requirement with maximum (input/output) points are 192/128. It can be fixed on the standard DIN rail to directly drive the load such as contactor, which makes the strong power design much
Simple and the space taken up is much more reduced.
The wires from CNC to strong power plate are much more saved through the connection of the high speed serial communication ports with CNC.
The machine operation panel
It has maximum 64. mechanical keys with a LED indicator for each. Their function specified by PLC programming and also they can correspondingly connect the switches of feedrate override, spindle override, MPG override and coordinate axis.
Separating structure:
Connect CNC by the high speed serial cormunication ports to save the wire.
NC function
Controlled axis
Controlled, link axis: up to 5 feeding axes, 1 spindle, and 4 axes to link
Interpolation method: linear(G01), circular (G02, G03), sine(G07)
Max. stroke: metric: 99999.999mm inch :9999.9999inch
Setting increment
Least input increment 0.001 mm /metric 0.0001 inch/inch
Least increment: X axis : 0.001 mm / metric 0.0001 inch/ inch
Y axis : 0.001 mm / metric 0.0001 inch/ inch
Z axis: 0.001 mm / metric 0.0001 inch/ inch
Max. traverse rate
240,000mm/min or 9, 600inch/min
Max. feedrate
G94 : 150, 000mm /min or 60, 000.00inch /min
G95: 2 , 000.00mm /r or 200.0000inch/r
Automatic acceleration/deceleration: Execute the linear acceleration/deceleration to shorten the positioning time when automatically rapid feeding in Jog or Auto mode
Automatic acceleration/deceleration in cutting feed: automatic acceleration/ deceleration for cutting feed or manual continuous feed index, parameter setting the time constant from 8ms to 4000ms.
Buffer register: advance to read the instructions of the ĩollovving two blocks to eliminate the intermption of NC instruction caused by reading the instructions to improve the vvorking eữiciency.
MSTB ĩunctỉon
Tool function T: • T2 digiưT4 digit • 99 groups tool offset • tool position offset tool length compensation
• tool radius compensation B/C • communication input of tool offset value
• tool length measure • tool life management
Spindle function s: • S2 digit/ S4 digit A (12 digit BCD output /analog output) • S4 digit B(12 digit BCD output/analog output)(4-grade gear input) • max. spindle speed limit.
auxiliary function M : specified by the sequential 2 digits after address M. End of program : M02 • M30 , program stop : M00, optional stop : M01 , subprogram call : M98, end of subprogram : M99. other M functions can exclusively be defined by user.
The second auxiliary function B: it is speciíied by the sequential 3 digitals behind B, BCD sỉgnal of the three digitals are transmitted to the machine side.
The function ỉs used for the positioning of graduation worktable.
Precision compensation
?stored pitch error compensation: compensate the error caused by machine position to improve the Processing precision and the compensated data is stored to the memory.
?backlash compensation: compensating the loss momentum of machine
Tool length compensation and tool nose radius compensation : the tool length is specified by G codes (G43, G44 , G49).
• tool nose radius compensation (G40 , G41 , G42), the compensation value for every tool is stored to the memory.
Max. compensation value: ? 999.999mm or ?99.9999inch.
Reliability and satety
• emergency stop ; • overtravel; • stored stroke limit; • NC ready signal; • servo ready signal; • MST íunctional completion signal; • starting signal in automatic run ; • signal in automatic run ; • feed hold indicator signal: • satety door interlock ;
NC alarm : • program error and operation error; • overtravel error; • servo System error; • connection error, MDI data transmission error between: PMC error; • memory ( ROM and RAM ) error;
More than 300 alarm numbers to the stable operation and troubleshooting for the System.
Self-diagnosis: check the followings : • System abnormity ; • position control abnormity ; • servo System abnormity ; • CPU abnormity ; • ROM abnormity ; • RAM abnormity ; • MDI/machine operation panel data transmission ; • RS232 read abnormity ; • PC data transmission abnormity : and so on.
Operation
• dry run • interlock • single block • optional skip block • manual absolute value ON/OFF • auxiliary tunction lock(M. S.T lock)
• machine lock • feed hold • cycle start • overtravel release • emergence stop • external reset signal • external povver supply ON/OFF • manual continuous feed • incremental feed • MPG • skip • additional optional block skip • rapid feed overshoot • manual insertion function • sequence number search • program number search • external workpiece number research • external data input • sequential number comparison stop • program start again • menu switch • graph display • external position display
Display
• 7.5inch 640 • 480 homochrome LCD screen ?machine coordinates: absolute coordinate, incremental coordinate, distance to move
• User program • current operation mode • System parameter, diagnosis number, alarm number, macro variable value: tool offset setting, MDI command, MST
State • actual federate, spindle speed • machining path graph
• Run time and other NC instructions and State intormation
PMC function
Control method : cycle running; run speed:30us/step for basic instruction
Input/output: 192/128 ; 5000 steps
Development method: PMC instruction or ladder diagram
Instruction amount: 34 including 12 basic instructions and 22 tunction instructions
DNC tunction
Serial DNC to connect u disc
Table 2.13 G code list
G codes
Group
Function
G00
01
Positioning
G01
Linear interpolation
G02
Circular interpolation (CW)
G03
Circular interpolation (CCW)
G04
00
Dwell
G05
High-speed continuous cutting mode
G07
Federate sine curve control
G09
00
Exact stop check
G10
Offset value setting, start of registration of tool life management data
G11
00
End of registration of tool life management data
G17
02
XY plane selection
G18
ZX plane selection
G19
YZ plane selection
G20
06
Input in inch
G21
Input in mm
G22
04
Stored stroke limit ON
G23
Stored stroke limit OFF
G27
00
Reference point return check
G28
Return to reíerence point
G29
Return from reíerence point
G30
Return to 2 nd , 3 rd , 4 th reference point
G31
Skipping cutting
G33
01
Thread cutting
G40
07
Cutter compensation cancel
G41
Cutter compensation left
G42
Cutter compensation right
G43
08
Tool length compensation + direction
G44
Tool length compensation – direction
G49
Tool length compensation cancel
G45
00
Tool offset increase
G46
Tool offset decrease
G47
Tool offset double increase
G48
Tool offset double decrease
G50
11
Scaling off
G51
Scaling on
G54
12
Workpiece coordinate System 1 select
G55
Workpiece coordinate System 2 select
G56
Workpiece coordinate System 3 select
G57
Workpiece coordinate System 4 select
G58
Workpiece coordinate System 5 select
G59
Workpiece coordinate System 6 select
G60
00
Single directional positioning
G61
Exact stop check mode
G62
13
Automatic corner override
G64
Cutting mode
G65
00
Custom macro simple call
G66
14
Custom macro modal call
G67
Custom macro modal call cancellation
G73
09
Peck drilling cycle
G74
Counter tapping cycle
G76
Fine boring
G80
Canned cycle cancel
G81
Drilling cycle, spot boring
G82
Drilling cycle, counter boring
G83
Peck drilling cycle
G84
Tapping cycle
G85
Boring cycle
G86
Boring cycle
G87
Back boring cycle
G88
Boring cycle
G89
Boring cycle
sản phẩm liên quan